Ox and Rabbit – Bed and Breakfast | Shelburne Falls, MA
"A Table-Full of Welcome."
The Ox and Rabbit – Bed and Breakfast is a welcoming respite for travelers. This country-style, Victorian was built in 1880. Here are gardens through which to wander and sunned and shaded decks on which to relax. All of our delectable breakfasts are homemade. We're also happy to satisfy any of your dietary requests. Holistic health and wellness services are available. All of these select ingredients make the Ox and Rabbit an ideal place to stay. Come, relax and enjoy. We look forward to serving you.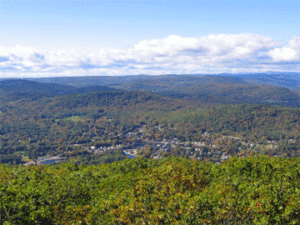 Ox and Rabbit's Location in Shelburne Falls, Massachusetts
The Ox and Rabbit plays on Massaemett Mountain's eastern foothills. The view of the hilltops that surround the historic village of Shelburne Falls is a dream to behold in the early morning mist.
The property is a moment's walk to riverfront shops and restaurants. There are many galleries along Bridge Street for fine art and crafts exploration. The Glacial Potholes at Salmon Falls, the Trolly Museum, and the Art Garden are all destinations you won't want to miss. And the world renowned Bridge of Flowers is in bloom throughout the seasons. The loving dedication of its committee and volunteers are at the root of its success.
Driving here is a breeze. You'll enjoy riding along the famous Mohawk Trail on your way into town. Route 2's gentle and winding way is a wonderful scenic drive. We're located 6 miles north of Interstate 91. Simply use exit 26 at Greenfield and head on up. See Plan Your Stay for more details.
The Pioneer Valley region is home to the Five College Consortium. So, if you're here visiting your favorite student, we're right around the corner. Why not treat them to a get-away weekend? They'll love Sunburn Beach.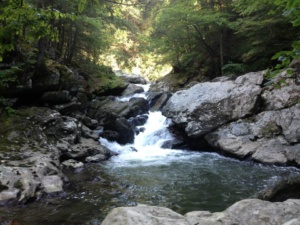 Seasonal Activities in the Greater Shelburne Falls Area
The Ox and Rabbit – Bed and Breakfast is very near to all the best seasonal activities the region has to offer. These include skiing, hiking, golf, swimming, rafting, rock climbing, and zip lines, to name a few. We're happy to help you plan your stay and make the most of your vacation time here in the village. 
Ox and Rabbit – Bed and Breakfast
Come stay awhile. The Ox & Rabbit – Bed and Breakfast has a room ready just for you.